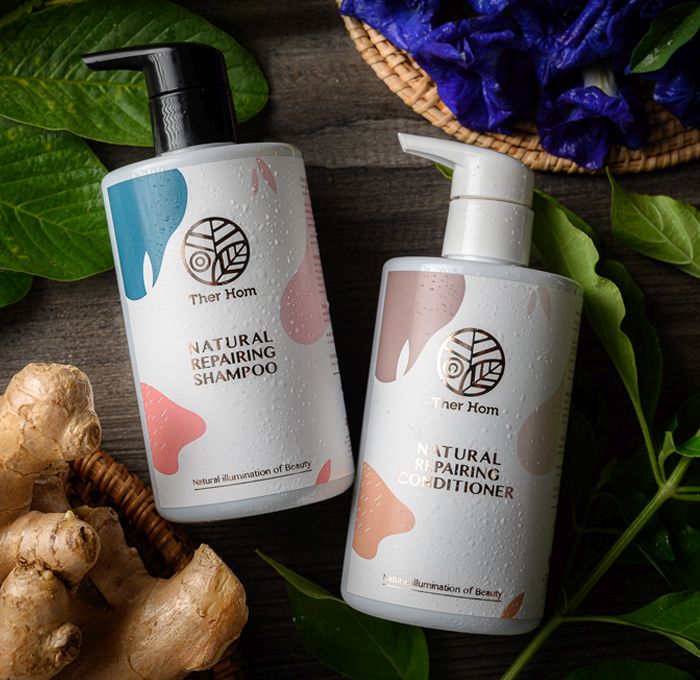 A CHANGE of hair cleaning & treatment experience
FEEL GREAT as it is gentle and mild for hair and scalp. Moderate foaming which helps for easy rinse-off and cleaning. Cleanse touch on its first use. Florally scented with those herbs as mixtures for producing great quality hair results. Can be used as frequent as wish to build and will definitely bring for the natural shiny and healthy hair look at all time.
Confidence with its safety as the product was made of those long-known quality Thai Herbs, organically farmed from where it is GPS qualified. Suitable for even sensitive and allergic skin and patients who look for products which are chemical-free, residue-free, hydrogen-free, peroxide-free, silver-free and nitrate-free. The product which is manufactured under Asean GMP-certified manufacturing process.
Rejuvenate and Nourish your Hair
The difference is felt upon its first use. Dry and Fizzy hair can be treated, at your finger tip, to bring for great shiny and silky hair. Intense level of natural herbs bring a cooling treat on hair. It brings for great hair results with steady hair look, lesser hair falls, hair volumizing and better for styling. It is made of natural herbs…
Guava (locally called as 'Fa-rang') Rich with vitamin B which helps stimulate the growth of hair root, strengthen and accelerate the new hair growth, lesser hair falls.
Rhinacanthus Nasutus (locally called as 'Thong-Pan-Chang') gives the natural hair coating effects, grey hair coloring, reduce preterm grey, anti-dandruff and scalp itch.
Ginger (locally called as 'Khing') gives the benefits for hair root and scalp nourishing, anti-bacteria and Tinea capitis. Essential oil from ginger helps nourish the hair for its better volume, smooth and silky hair look. And other special natural organic Thai herbs.
Solutions for New Lifestyle as it is easy to use, rinse and clean. Can be used with colored hair with no color change effects
Suitable for all who looks for daily hair cleanse with natural products.
Environmental care with Environmental-friendly packaging. Non-animal testing.